ABOUT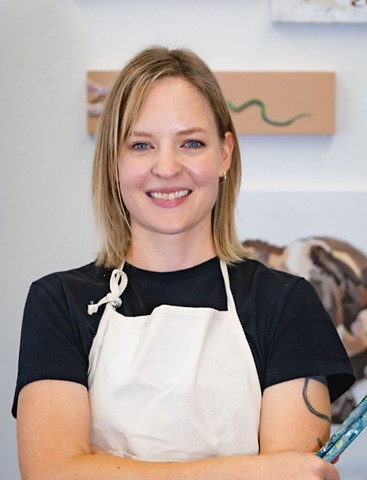 Hi, welcome!
I'm Janelle, a surrealist painter in Denver, CO.
After graduating with a BFA from Metro State University in 2011, I began exhibiting layered mylar drawings influenced heavily by existentialism, the ephemeral, dreams, and memory. These eventually evolved into collage-style paintings that smashed together figures, landscape, animals, etc., referencing the conglomeration of a myriad of human experiences. Painted in an expressive realist style, images intersect with a dream-like cadence that pushes us to question our memory, perception of time and physicality.
My current focus is on multi-panel works that explore the relationship between the individual and the collective, while continuing to delve into the intricacies of time, memory, dreams, and consciousness. Just as the collective memory shapes our perception of the past, my work invites viewers to consider the extent to which individual experiences contribute to the collective consciousness.
I've been honored with several accolades throughout my career, including the Nagel Art Thesis Award and Honorable Mention for my thesis installation at Metro State. I was also a member of Denver co-op Pirate: Contemporary Art from 2011 - 2014, and completed a residency with the Firehouse Art Center in Longmont, CO in 2021.
I'm currently an Artist in Residence at RiNo ArtPark, made possible by the partnerships between RedLine Contemporary Art, RiNo Art District, Denver Public Library, and Alto Gallery. My studio is located within Alto Gallery, and I'll be presenting a solo exhibition of my work at the gallery in May 2024.